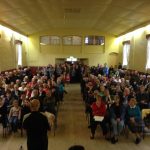 A committee has been formed to lead the bid to save Lettermacaward Post Office, with its first meeting set for tomorrow night.
It follows a packed public meeting in the local hall last night, at which outgoing postmaster Brian Cannon urged all present to stand together and fight for their community.
An Post has set May 9th as the deadline for submissions.
Brian Cannon, a former President of the Irish Postmasters Union says the people of Lettermacaward sent a clear message that they will not sit idly by and watch local services being lost...........
Picture courtesy of Cllr Marie Therese Gallagher