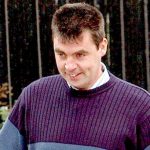 A man accused of murdering 29 people in the Omagh bomb atrocity was sought by police for five years, Belfast High Court has heard.
Seamus Daly lived "under the radar" near the Irish border before he was arrested at a retail centre car park in Newry, County Down, prosecutors said.
It was confirmed charges were brought based on a review of available evidence rather than any new material.
Mr Daly was refused bail at a hearing yesterday.
The case against Seamus Daly centres on telephone analysis allegedly linking him to the bomb.
A former business associate, Denis O'Connor claims Daly phoned him on the day of the attack using a mobile suspected of having travelled into Omagh on the bomb run.
Mr Daly faces 29 counts of murder over the August 1998 Real IRA attack.
The 43-year-old bricklayer, originally from Culloville, County Monaghan, but now residing in Jonesborough, County Armagh, also faces counts of causing the explosion in Omagh and possession of a bomb in the County Tyrone market town with intent to endanger life or property.
He is further charged with conspiring to cause an explosion and having explosives with intent in connection with a separate dissident republican bomb plot in Lisburn, County Antrim, in April that year.
No one has ever been convicted in connection with the massacre at Omagh.
But Mr Daly, who has a previous conviction in the Republic of Ireland for IRA membership, has already been found liable for the bombing in a landmark civil action taken by victims' families.