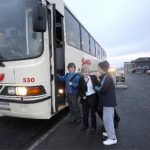 The Unite trade union have said there may be a possibility of Ulsterbus or Bus Eireann taking on the routes left from the Lough Swilly bus service.
It was confirmed yesterday that the Lough Swilly Bus company will cease trading this weekend with the loss of 80 jobs.
The owners of the company are refusing to comment regarding the situation, and concerns have been raised regarding the exsisting Lough Swilly service routes.
Speaking on todays Shaun Doherty Show, Phillip Oakes from UNITE says they are in discussions with Bus Eireann and Ulsterbus:
Meanwhile, the owners of Boyce Travel have said they're interested in taking on some of the Lough Swilly bus routes.
The General Manager with Boyce Travel, Aidan Boyce said they've made enquiries, but are not getting answers: