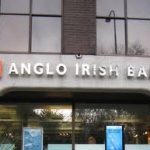 Former Anglo Irish Bank directors Willie McAteer and Pat Whelan have been convicted of providing illegal loans to the Maple ten to prop up the bank's share price.
The two former Anglo executives have been remanded on bail for a sentencing hearing on April 28th.
There was no visible reaction from Pat Whelan and Willie McAteer as the jury found them guilty of providing illegal loans to ten wealthy Anglo Irish Bank customers back in July 2008.
The unanimous verdicts came after nearly 17 hours of deliberations over 5 days
However the two men were acquitted on a further 6 charges of providing unlawful financial assistance to the family of Cavan businessman Sean Quinn.
The purpose of the 16 loans was to unwind Mr Quinn's 29% secret stake in anglo over concerns it was destabilising the bank's share price.
However the terms of the loans to the Quinns and the Maple Ten were different the Maple customers essentially got a better deal which made the lending 'uncommercial' according to a banking expert ...and not in the ordinary course of banking as the accused had claimed.
The bank's Sean Fitzpatrick was unaware of the conditions of the lending to the Maple Ten which explains his acquittal by the jury last night.
Under the companies acts his two former colleagues face a maximum penalty of up to 5 years in prison.
They made no comment as they walked from the criminal courts of justice