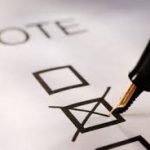 Voters could be faced with a new look ballot paper in the future.
Members of the Department of the Environment will appear before Public Service Oversight and Petitions Committee later today to discuss changes to the design and wording of voting slips for future referendums and elections.
Research carried out by the Referendum Commission shows 55 per-cent of respondents said it was 'quite difficult or very difficult' to tell from the Seanad Referendum ballot paper what they were being asked to vote for.
Deputy Pádraig Mac Lochlainn, chairman of the committee says the meeting will discuss what lessons can be learned from the commissions findings: