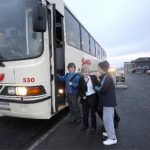 A trade union has said that time is running out to save 80 jobs at the Lough Swilly bus company following the appointment of a liquidator.
The Lough Swilly company employs around 20 people in Derry and another 60 in County Donegal.
Unite are due to meet the workforce today.
The company have said it had no comment to make at this stage.
Philip Oakes from Unite has said events have moved quickly over the past few days and fears are growing for the future of the company......