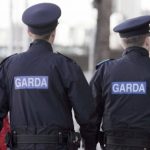 The number of gardaí in Donegal fell 17 per cent over the last six years.
The figures were revealed by Minister Alan Shatter after Pearse Doherty TD asked him a Parliamentary Question on the issue.
In 2008, there were 488 gardaí in the county: by the end of 2011 that had fallen to 444 and, at the end of February 2014, the figure stood at 407.
Local election candidate, John Sheamais O'Fearraigh says there is a definite link between the fall in garda numbers and the rise in robberies here: