A man accused of building the bomb used in the Omagh bombing has been arrested by police.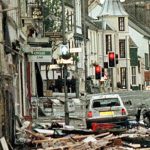 Patrick Joseph Blair was arrested in Newry, South Down, four days after a senior republican, Seamus Daly, was charged with murdering 29 people in the 1998 Real IRA attack.
Patrick Joseph Blair, also known as "Mooch" Blair, was named by an MP in the House of Commons in 2002 as having "helped to construct the Omagh bomb" and taken part in a string of other attacks.
Police in Northern Ireland said detectives "investigating dissident republican terrorist activity have arrested a 58 year old man in Newry". He is being held in Antrim police station for questioning.
The Omagh was the single bloodiest terrorist attack in the history of the Northern Ireland Troubles and came only months after the signing of the Good Friday Agreement.
No one has ever been successfully convicted in the criminal courts for the attack and one Northern Ireland police chief once apologised to the victim's families for the lack of justice, although Seamus Daly appeared in court last week in Dungannon charged with the bombing.
Blair, who was an active member of the IRA's south Down unit, has denied any role in the attack.
He told a 2011 tribunal into Irish police collusion in the IRA murder of RUC officers that he "had no part in any shape or form in the Omagh bombing," and offered to take a lie detector test to prove it.