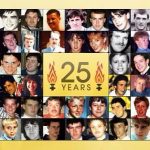 Liverpool Football Club will hold a memorial service later for the Hillsborough tragedy - 25 years on.
Before the event this afternoon, volunteers will lay out scarves at Anfield, given by each of the 92 clubs of the football league.
They will be used to form the figure 96 on the pitch - the number of those who were crushed to death.
Liverpool manager Brendan Rodgers says the mourning never stops: