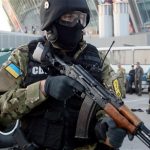 There is no sign of pro-Russian rebels giving up their possession of government buildings in eastern Ukraine.
That is despite the passing of a deadline this morning set by the country's acting president.
He has threatened a full-scale security operation.
World leaders have warned of a "dangerous escalation" in the Ukraine crisis as fatal clashes broke out in the east of the country.
Armed men that Western leaders claim are Russian forces have set up checkpoints and barricades in six towns in the area.
European Union foreign ministers are holding talks later today to discuss how to toughen sanctions against Russia without losing the support of EU governments worried about Moscow switching off the gas to Europe.
Reporter Katie Stallard is in Donestk and says the buildings will not be easy to reclaim.
"Outside their are civilians, there are pensioners carrying religious icons - they are praying, they say they are prepared to act as human shields" she said.
"So storming these buildings would be incredibly difficult to achieve without significant civilian causalities" she added.