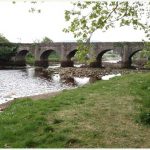 The Minister for Transport has claimed that Donegal County Council has sought no funding from government for a new bridge in Cockhill since an application was denied in 2010.
Deputy Pádraig Mac Lochlainn says this is at odds with his information - he says if the council has made a funding application, the Dail record needs to be corrected.
Local children use the bridge to walk to school with parents concerned over their safety.
Deputy Mac Lochlainn says it would be a surprise to him of the council hadn't been pursuing funding for a new bridge since 2010: