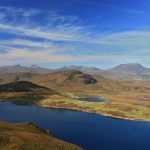 A Letterkenny Councillor is calling on Council Management to ensure the sourcing of water from Lough Salt is maximized.
Currently much of the northern end of the town gets its water from Lough Salt while the bottom end of the town is fed water from bore holes.
Councillor Ciaran Brogan is of the opinion that the whole town should receive the better quality water from Lough Salt with the bore holes used only for back up.
He's looking for further information from council management on the issue: