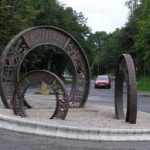 A Lifford businessman is protesting outside today's meeting of Donegal County Council over calls to introduce a one way traffic system into the town.
The proposal comes from Councillor Gerry Crawford who says a one-way system in Lifford is 'very much needed'.
The topic was last raised in the Chamber in 2011, after lengthy debate and public consultation it was agreed to retain the current two-way system.
Local Business man Christy Gallagher is surprised the issue is back on the agenda - he says there is no appetite for a one-way system in Lifford: