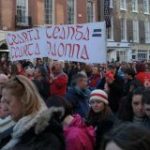 Conradh na Gaeilge will stage a protest in Belfast this Saturday afternoon, following on from a successful demonstration in Dublin in February.
Over a thousand people turned out last time to show their support for the preservation and development of the Irish Language.
Members of the Gaeltacht community in the North say they're angered by the lack of Irish in courts, the media, public signage and education.
They're demanding equality, rights and fairness from Government both sides of the border.
Julian De Spainn is General Secretary of Conradh na Gaeilge
He's been outlining some improvements that could be made: