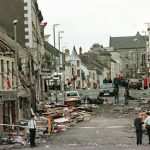 A 43 year old man charged with murdering 29 people in the Omagh bombing in 1998 has been remanded in custody.
Seamus Daly, from Cullaville in County Monaghan, was arrested on Monday.
He appeared at Dungannon Magistrates' Court in Co. Tyrone amid a heavy security presence.
Sky's David Blevins was in court......