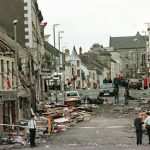 The high-profile republican Seamus Daly has been charged with murder over the Omagh bombing.
43 year old Daly, of Cullaville in County Monaghan is charged with 29 counts of murder along with two other charges related to Omagh and two others relating to an attempted explosion in Lisburn four months earlier - a total of 33 charges.
He will appear in court in Dungannon later today.
Belfast-based Security Correspondent Alan Murray says police are not commenting on the evidence on which they've based these charges, and this raises a number of points............