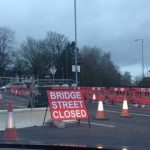 Members of Strabane District Council met this afternoon with representitives of the DOE Roads Service at Bridge Street this afternoon to discuss the roadworks whichc they claim have the potential to cripple local businesses.
There has been severe traffic disruption in the town this week because of the roadworks, whihhave seen the outbound lane on Bridge Street closed to allow for public realm works to take place.
However, the one way system has caused huge tailbacks, and the roadworks are scheduled to last 12 weeks.
Today, councillors told Roads Service engineers and senior reps from the contractors involved that the situation must be resolved.
Cllr Patsy Kelly says they were left in no doubt about the gravity of the situation, arguing that businesses will close if something isn't done..........