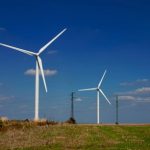 Donegal Senator Brian Ó Domhnaill has repeated his call for an independent assessment of Ireland's wind energy policy, saying it's not right that the Department of Energy is evaluating its own policy.
Senator O'Domhnaill says given the amount if money that is spent subsidising the sector, there needs to be an independent, objective and scientifically based cost benefit analysis of wind farms in Ireland.
He told the Seanad this week that a recent study found that excessive grants, subsidies and tax breaks make wind farms an expensive and inefficient way of reducing greenhouse gas emissions.
However, he says, Minister Pat Rabbitte refuses to address the issue.........