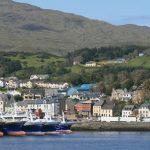 Retailers Against Smuggling is warning that smaller Irish ports like Killybegs are being used increasingly by smugglers.
This week a consignment of black cigarettes were seized in Killybegs on a ship which arrived from St Petersburg.
A Russian man was question in connection with the seizure of 6,200 cigarettes with a retail value of approximately €2,860.
Benny Gilsenan, spokesman for RAS said smugglers are increasingly targeting smaller Irish ports and harbours to offload their consignments.
He said 'The Irish coastline provides an open door for smugglers. It's hard to believe that a ship would travel all the way from a Russian port to Donegal, but this is exactly what happened'...