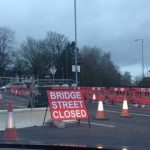 A number motorists and business owners in Strabane have expressed concerns after there was severe traffic disruption in the town yesterday due to roadworks.
The entire "out of town" lane along Bridge Street has been closed to undertake public realm scheme works.
There is a one way system in place, and there were huge tailbacks in the the town yesterday evening. The roadworks are to be in place for the next 12 weeks.
Local Cllr Patsy Kelly said he was contacted by a lot of angry people yesterday, he says roads service need to reassess the situation: