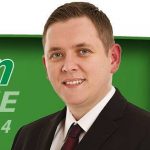 A Donegal councillor is calling for an imaginative response to the problem of rent arrears.
In response to a question, Cllr Gary Doherty has been told that 1,571 council tenants, 33% of the total, are in arrears of 100 euro or more. The council says the vast majority of them are in payment plans to address the issue.
Cllr Doherty says this shows that the tenants are making a genuine effort, and their plight is the result of the economic downturn and the government's subsequent inmposition of an austerity based response.
He says this must be addressed as a matter of urgency.........