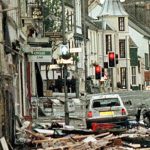 One of two men ordered to pay more than £1.5m in damages to the families of those killed in the Omagh bombing is being questioned by police about the Real IRA attack in August 1998.
Seamus Daly was arrested in Newry on Monday.
Seamus Daly was one of five men named in a BBC Panorama programme 'Who Bombed Omagh in October 2000', which investigated the attack that killed 29 people.
No-one has been convicted of carrying out the bombing in a criminal court.
However, relatives of some of the victims brought a civil action against five men they claimed were responsible, including Seamus Daly.
The court ruled that the men were responsible for the attack. Daly and another man were later ordered to pay £1.6m damages.
Among those killed in the attack was a woman pregnant with twins.
It was the worst single atrocity during more than 30 years of violence in Northern Ireland.