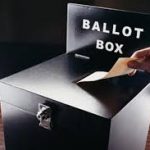 There are now 20 candidates who have declared an interest in running in the local elections in the Letterkenny/Milford areas.
The formal confirmation of candidates is four weeks before the polling date of Friday, May 23rd.
The son of Cllr. Victor Fisher, David Fisher, has thrown his hat in the ring to contest the Letterkenny/Milford area in the forthcoming local elections.
Cllr. Victor Fisher was not asked or selected to run for Fianna Fail and subseuqently announced that he was quitting the party. David Fisher is running as an independent.
The Mayor of Letterkenny Cllr. Paschal Blake has confirmed that he will stand in the new ten seat constituency.
The following is a list of those who have declared in the Letterkenny/Milford electoral area: Ciaran Brogan, James Pat McDaid, John Watson, Liam Blaney (all FF), Noel McBride, Jimmy Kavanagh, Grace Boyle (FG), Mick Quinn, Gerry McMonagle (SF), Christy Galligan, Siobhan McLauglin (Lab), Billy Banda (PBP) and independents Donal Cullen, Peter Cutliffe, Ian McGarvey, Michael McBride, John O'Donnell, Tom Crossan, Paschal Blake, and David Fisher.