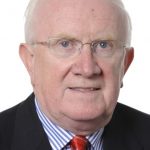 An EU study on internet use by children has found that over a quarter of European children aged 9 to 16 have been bullied, and 14% of them have been bullied online.
The "Net Children Go Mobile" report, which has just been published, follows two years of research in Ireland, the UK, Denmark, Italy and Romania.
The report finds that 27% of respondents were bullied, 14% of them on the internet or via their mobile phones.
North West MEP Pat the Cope Gallagher says the report is deeply concerning, particularly in the wake of the deaths of a number of teenagers including Erin and Shannon Gallagher in Donegal.
He's urging people to become involved with an EU awareness programme, saying he believes education is the key............