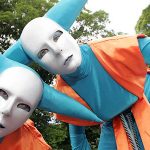 The Government is investing 1.3 million Euro into 29 festivals across the country, three of them in Donegal.
40,000 euro has been allocated to the Earagail Arts Festival and 20,000 to the Rory Gallagher Festival in Ballyshannon. A sponsorship deal has also been agreed with Sea Sessions in Bundoran.
Junior Tourism Minister Michael Ring says the Government wants to work on the legacy of The Gathering last year.............