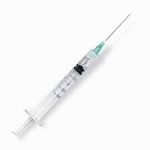 There has been outrage in Strabane after a 12-year-old girl fell and cut her hand on a syringe.
The incident happened yesterday afternoon as the girl walked home from school, she tripped and fell on a footpath near the primary school she attends.
The young girl, who cut her hand, had to then be taken hospital for tests.
Local election candidate, Patrick Leonard was made aware of the incident by the young girls parents: