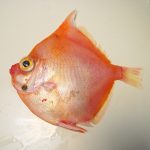 Up to 120 jobs are to created in Killybegs with plans to invest 35 million euro to develop the world's largest bio-marine ingredients facility in the port.
The Killybegs Fishermen's Organisation has joined forces with Norwegian partner Biomarine Science Technology to develop the facility.
One of the key species to be used in the plant will be boarfish, a species which has been introduced into the Irish fishing industry since the specific net mesh sizes were allowed.
KFO Chief Executive Sean O'Donaghue says boarfish is set to become a very important species for the fleet.........