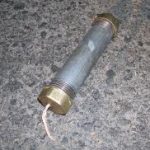 There has been another security alert in Strabane this morning, the second in the past 24 hours in the town.
A viable pipe bomb type device was recovered following an alert in the Townsend Street area.
The object, which was discovered shortly after 1am in an area known locally as the Back Row, has now been taken away for examination
Residents who were evacuated during the alert are now returning to their homes .
This is the second incident in 24 hours in Strabane. Yesterday a device, described as being larger than a pipe bomb, was found at the gate of Strabane Golf Course.
Detectives at Strabane CID are investigating both incidents and are appealing for anyone with information to contact them.
Local Cllr Karina Carlin says there is a lot of anger in the town this morning regarding these incidents: