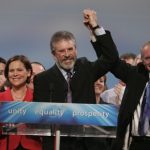 Both Government parties have seen their support fall in the latest opinion poll which also shows support for Sinn Féin increasing.
Fine Gael fell three points to 26 per cent, while Labour fell by two points to bring the party back under 10 per cent yet again.
Support for Sinn Féin increased by five points to bring it to 21 per cent according to the results of the Sunday Business Post/Red C survey.
The party is one point behind Fianna Fáil, which saw no change at 22 per cent, the same standing as when the poll was carried out last month.
Donegal South West Deputy Pearse Doherty says Sinn Fein are delighted with the latest opnion poll:
Meanwhile Independent TDs say they're not overly concerned by the latest opinion poll.
Support for Independents remains unchanged on 22 per cent, this is despite playing a key role in shedding light on issues within An Garda Siochana.
Independent TD for Donegal South West is Thomas Pringle: