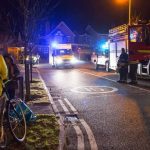 A post-mortem is expected to be carried out tomorrow on the body of a woman who died in a house fire in Sligo this weekend.
34-year-old Caitriona Feely lost her life after a blaze broke out in a home on White Strand View in Aylesbury Park on Friday night.
The fire is believed to have been confined to the upstairs part of the house, but the cause of the blaze is still unknown.
Two boys-who were also in the building at the time- aged 3 and 18 - escaped unharmed.
Local parish priest Father Peter Gallagher says news of the death is sure to shock the local community: