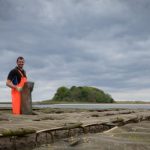 Oyster farmers in Donegal are being denied the chance to apply for EU grants and improve their business because the Irish government still has no working licence system in plasce.
The IFA's Aquaculture Executive Richie Flynn has told an IFA/BIM seminar that in order for farmers to play on a level pitch with other EU competitors, they must have a responsive speedy licencing system for access to good inter-tidal growing areas.
They also need full access to EU funding mechanisms, which he claimed has been denied to them by national bureaucracy for the last five years.
Richie Flynn says Donegal oysters are among the best in Europe, but potential growth in the county is being blocked rather than supported............