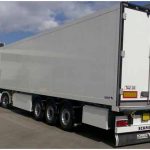 A Northwest MEP is calling on the government to instigate a significant effort to have Northern Ireland exempt from the new HGV tax.
The UK tax, which will see hauliers crossing from the south into Northern Ireland charged £10, comes into effect from April.
Some Donegal Hauliers says they will be forced to move their businesses to Northern Ireland as a result.
MEP Pat the Cope Gallagher says the government must do more to seek an exemption for the North particularly as southern money is being spent on roads there: