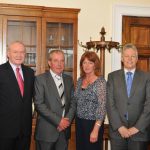 A Strabane family have welcomed the announcement that a vaccine that protects against a deadly form of meningitis is set to be introduced in the UK and Northern Ireland.
Meningitis charities said more data had led to today's decision, and it was a "wonderful outcome".
About 1,870 people contract meningitis B each year and one in 10 dies.
16-year-old schoolgirl Terri Devine died in December 2008 after she contracted meningistis, her family then launched a campaign for a vaccination to be introduced.
Speaking today, Terris father Sean, said it's great news that a vaccine has finally been introduced:
[podcast]http://www.highlandradio.com/wp-content/uploads/2014/03/seand530.mp3[/podcast]