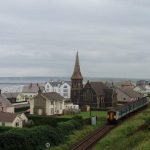 A County Derry gas fitter has been sentenced to two years in prison and two on licence for the manslaughter of two teenagers in 2010.
52-year-old George Brown, from Ballygawley Road, Aghadowey, admitting killing Neil McFerran and Aaron Davidson and a string of other charges, including health and safety breaches.
The pair died after they were overcome by carbon monoxide from a faulty boiler in Castlerock, County Derry.
The 18-year-old friends, from Newtownabbey, County Antrim, died in a holiday home apartment on 3 August, 2010.
A third teenager was also overcome by the gas, but despite suffering serious injury, he survived.
An investigation found that the gas leak had been caused by a defective flue in a boiler.
Mr Justice Weir described what happened in the Castlerock apartment as a "wholly avoidable tragedy".
He told Brown that his "cavalier attitude" to the dangers of carbon monoxide was reprehensible and impossible to comprehend.
The judge said the failure of the gas fitter or his employees to secure the boiler's flue pipe with four screws was "sheer laziness".
George Brown was jailed for two years and fined 19,000 pounds.