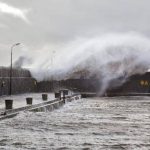 Donegal has been allocated 1.5million euro under two packages announced by Minister Simon Coveney today.
700 thousand euro has been granted to Killybegs for Phase 1 of a small craft harbour while Donegal County Council has been given 751 thousand euro to repair 28 piers and harbours damaged by the severe winter storms.
The biggest allocation goes to Bunagee pier which will have 135 thousand euro of repair work carried out.
Other allocations include 45 thousand euro for Leabgarrow, Arranmore and Ballyshannon Harbours and Magherarorty and Buncrana piers.
Donegal Government Deputy Joe McHugh says the money for Donegal is very welcome:
[podcast]http://www.highlandradio.com/wp-content/uploads/2014/03/joerawALLOCATION.mp3[/podcast]
The full list of piers/harbours to receive repair funds are:
Mountcharles Pier €36,000
Magherarorty Harbour €45,000
Buncrana Harbour €45,000
Arranmore, Rannagh Pier Slip €27,000
Bundoran Pier €7,200
Malinmore Pier €6,750
Doonalt Pier (near Glencolmcille) €6,750
Bruckless Pier €16,200
Port Inver €18,000
Cladnageeragh Pier (near Kilcar) €22,500
Portsalon Pier €22,500
Bunaniver Pier €31,500
Wyon Point & Rinnalea Navigation Lights €9,000
Nancy's Rock Navigation Perch €31,500
Cassan Sound Pier €9,000
Malinbeg, Ballyederlan, Gortalia, Tawney (Piers & Slipways) €18,000
Donegal Town Pier €3,600
Bunagee Pier €135,000
Ballysaggart Pier €13,500
Owey Island Pier €27,000
Rathmullan Pier €27,000
Leabgarrow Harbour, Arranmore €45,000
Ballyshannon Harbour €45,000
Curransport Slipway €9,000
Arranmore,Stackamore, Slipway €6,750
Cruit Island Slipway €6,750
Inis Caoraigh Slipway €18,000
Killybegs Harbour, Shore Road €63,000