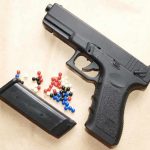 It has emerged that players taking part in a rugby match in Strabane at the weekend were shot at by a group of youths with suspected BB guns.
The incident occurred at Milltown on Saturday as Strabane Rugby Club took on Carrickfergus.
Its claimed a group of 3 to 4 youths, with their faces covered, fired BB gun pellets at players from higher ground overlooking the pitch.
Local Councillor Jay Mc Cauley says it was a disgusting attack and  sheer luck that none of players were hit or seriously injured: