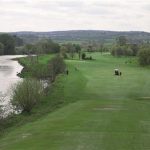 Three children were hospitalised last night, and up to a dozen had to be seen to by paramedics after what the PSNI have described as a "drinking party".
Up to 60 teenagers gathered at Strabane Golf Course yesterday evening, it's believed the gathering was organised via social media.
The Golf Course Road in Strabane was closed for up to three hours last night as police cleared the Golf Course and paramedics seen to young people who were suffering from the ill effects of alcohol.
At one stage the PSNI helicopter was called out to search the Golf Course after a teenage girl from Letterkenny was unaccounted for.
She was eventually found unconscious beside the River Mourne, face down in a puddle of mud. She was later taken to hospital were she is recovering.
Another female and a male, aged 16, were also found uncoisious at the bottom of the golf course area, near the 9th hole, which is beside the river.
Strabane PSNI Chief Inspector, Andy Lemon says it's lucky there wasn't fatalities yesterday evening
[podcast]http://www.highlandradio.com/wp-content/uploads/2014/03/lem530.mp3[/podcast]