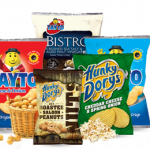 Largo Foods has announced that it is closing its Gweedore factory with the loss of  142 jobs Donegal jobs.

Staff were informed of the decision at a meeting with management this afternoon.
Largo foods describes itself as a  leading manufacturer and distributor of premium snack-foods – its has factories in Gweedore and Ashbourne in Co Meath.
The company says that 70 of the 110 full-time and 30 part-time employees in Gweedore would be offered the opportunity to transfer to full-time jobs at its Ashbourne factory in County Meath where 360 people are already employed by the company.
Maurice Hickey, Chief Executive of Largo Foods, said:
"Our proposal to transfer manufacturing from Gweedore has been made necessary by the need for the company to continuously reduce costs in the very competitive snack-food market where Largo Foods trades head to head with major global brands.
85% of the output from the Gweedore plant is exported to the UK and further afield. The volume of production at this plant does not provide the scale of activity necessary to produce snack-foods in a cost effective manner. Moving production from Gweedore to Ashbourne would also enable the company to centralise activities at one site thereby improving cost competitiveness.
We are working closely with Udaras na Gaeltachta to address issues arising from this plan. We are also in discussions with Enterprise Ireland regarding the continued development of our business in Ireland.
At this difficult time, I would like, on behalf of the management team of Largo Foods, to pay tribute to our Gweedore employees for their hard work and commitment over the last 18 years. The company will consult with employee representatives and each employee on a one to one basis about their options arising from this plan."