Swilly Rovers have been fined and banned from hosting SFAI cup games after a review found some fans did take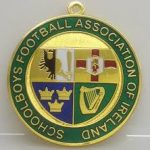 part in racist chants in a recent cup game.
The SFAI review centred on a U-15 Evans Cup game between Swilly Rovers and Castlebar Celtic played on March 1st.
An SFAI committee reviewed the referee's report on the game at a disciplinary hearing on 12th March 2014 in the Red Cow Hotel, both Swilly Rovers FC and Castlebar Celtic FC were represented at the hearing.
Following that review the SFAI committee has made the following decision:
The Committee concluded that racist chanting by Swilly Rovers supporters did take place at the above game.
With immediate effect Swilly Rovers FC is prohibited from playing any further games in the SFAI Cups at their home ground for the remainder of this season.
All further SFAI Cup games where Swilly Rovers would have had home advantage this season will be played at a neutral venue of the SFAI's choosing.
Swilly Rovers FC is fined the sum of €1,000 payable to the SFAI as per its rules on fines payment.
Swilly Rovers FC is severely warned as to its future conduct.
The Committee recommends that the FAI's inter-cultural department sets up the appropriate educational course with Swilly Rovers FC as soon as possible."