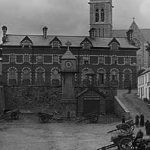 The County Museum is trying to track down the clock that used to stand in the Market Square in Letterkenny.
Curator Caroline Carr says the clock, which stood in the square since the late 19th Century disappeared sometime around the 1950s, and they are trying to track it down.
It's part of an exhibition marking over 100 years of local government in the town, in view of the imminent scrapping of Letterkenny Town Council, which will be disbanded later this year.
Caroline Carr says the clock tower was an important landmark in Letterkenny, and finding the clock face would be a very important addition to the exhibition:
[podcast]http://www.highlandradio.com/wp-content/uploads/2014/01/caroclok.mp3[/podcast]