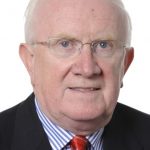 The EU Fisheries Commissioner is promising to move on imposing sanctions on Iceland and the Faroes for overfishing of mackerel.
Commissioner Maria Damanaki said last night mackerel stocks could be destroyed by the unilateral setting of quotas by Iceland and action will be taken within the next month.
Marine Minister Simon Coveney described the Icelandic mackerel policy as madness, saying it would have a devastating impact on Co Donegal if it was allowed to continue.
North West MEP Pat The Cope Gallagher has been to Iceland for discussions on a number of occasions.
Speaking this morning ahead of a meeting between the Icelandic Prime Minister and the EU Commission President, he says it's imperative that sanctions are imposed immediately.............
[podcast]http://www.highlandradio.com/wp-content/uploads/2013/07/copefish.mp3[/podcast]