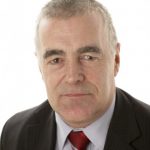 Bus Eireann has confirmed that its route between Letterkenny and Dublin will be fully wheelchair accessible by the end of 2013.
It is after the issue was raised at Letterkenny Town Council's meeting last week by Councillor Jimmy Kavanagh.
It was argued that in the absence of a rail service, the route was widely used by people with physical disabilities in accessing the airport and many health services in the capital city.
Councillor Jimmy Kavanagh says the Bus Eireann announcement is very good news: