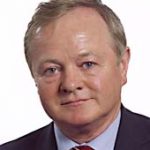 A Northwest MEP has blamed 'a lack of garda presence' on Donegal roads for an increase in those who have lost their lives.
Six people have died on Donegal's roads so far in 2013, that is a 50% increase over the same period last year.
MEP JIm Higgins says the trend need to be reversed and is calling for visible Garda traffic units to be mounted more often in the county.
Speaking at his Constituency office in Co. Mayo, Jim Higgins said "I am concerned that the lack of a Garda presence on our roads in Co. Donegal is resulting in more people losing their lives in 2013 so far. I want to see this trend reversed. We also need to cooperation of all road users - motorists, pedestrians and cyclists alike in order to drive deaths down. I want to see this latest trend stopped, and visible traffic units mounted more often in the county."
Nationally figures remain stable compared to last year, with an increase of just 2 deaths from 92 to 94 deaths for the first six months. "Last year was the safest year ever on Irish roads, with 161 people losing their lives, thanks to the work of the RSA and the public's cooperation. We need to make sure 2013 is even safer, and stop the bloody slaughter," said the FG MEP.
Mr Higgins paid particular tribute to the work of the RSA saying "Since the RSA was set up in 2006, the number of lives lost has been falling year on year. This has been due to a combination of driver education, hard hitting ads, better enforcement, new driving tests and licences, the NCT and penalty points. From being one of the most dangerous countries a decade ago, we are now the 4th safest country in the EU in which to drive - this is no small achievement. That said, we need to focus on blackspots like Donegal and reverse this latest trend."