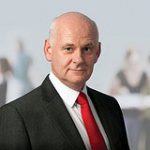 Labour Senator Jimmy Harte has accused Senator Brian O'Domhnaill of using Donegal's Special pre-schools for his own political gain and of has described his 'manipulation of the truth' as grossly offensive.
Senator Brian  Ó Domhnaill had called for the Health Minister James Reilly to come before the Seanad to discuss the threatened closure of St Agnes Special Needs Pre-School in Donegal Town and Ballaghderg Special Needs Pre-School in Letterkenny.
He claimed Senator Harte was amongst those who blocked the debate - this led the Donegal 'Let Me Be Me' campaign to release a statement expressing  'shock and disappointment' at the claims.
But in a statement today, Senator Harte said it was deeply unethical of Senator O'Domhnaill  to turn a most sensitive issue concerning special needs children into a piece of political theatre and said he found his manipulation of the truth grossly offensive.
Senator Harte says he has already spoken this week to Minister James Reilly and  Minister of State Kathleen Lynch relaying his concerns to them about the special pre-school issue.