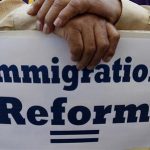 A Bundoran Town Cllr wants anyone with influence to lobby members of the US congress to ensure the Immigration Bill in America passes.
The legislation is expected to pass through the US Senate in the coming days and then it will go before the House of representatives.
The Immigration Bill could regularise the position of more than 50,000 undocumented Irish, over 1,000 of whom are believed to be from Donegal.
Cllr Mick McMahon is urging anyone with influence to use it in order to get the Bill passed:
[podcast]http://www.highlandradio.com/wp-content/uploads/2013/06/mcmahon.mp3[/podcast]