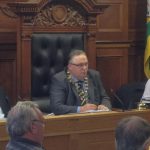 There was cross party acknowledgement yesterday that Cllr Frank McBreartys year as Mayor was a success.
Members of all parties, including Fianna Fail members, congratulated the Labour Cllr on his term as Mayor.
Cllr McBrearty thanked all Cllrs for their support during the year.
And speaking to Highland Radio News he said he will never forget his year as Mayor of Donegal....
[podcast]http://www.highlandradio.com/wp-content/uploads/2013/06/frank.mp3[/podcast]