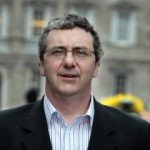 A former secretary for Donegal South West Deputy Thomas Pringle has told how she was fired from her job two days after receiving a card from him wishing her 'a lovely Christmas'.
Joan Blackbyrne has taken an unfair dismissal case against the Donegal TD and the Houses of the Oireachtas. Legal representatives for the Houses of the Oireachtas maintain that it is not liable for the claim.
Although present at yesterday's Employment Appeal's Tribunal hearing, Mr Pringle has not yet had an opportunity to submit his response.
Ms Blackbyrne a former secretary for Kerry TD Jackie Healy-Rae, began working as Mr Pringles was parliamentary assistant in in April 2011.
She said she got on very well with Mr Pringle, but his office was in a very bad state with sockets and wires all over the floor.
In July 2012 she tripped over these wires and was brought to hospital by Mr Pringle.
She returned to work the following October but was still in pain and on December 14 she had to take sick leave.
She said Mr Pringle was very, very busy at the time. She told him she had a note for sick leave, and he replied that he would have to "look at his options".
She says two days later she received a Christmas card wishing her a happy Christmas, but then two days after this, she received a notice of redundancy.
Barrister for the Houses of the Oireachtas, Cathal McGreal, argued that although Ms Blackbyrne was paid by the Houses of the Oireachtas, a person providing secretarial facilities to a TD is employed by the TD and not the Houses of the Oireachtas.
The inquiry adjourned until December when it will give a ruling on whether the Houses of the Oireachtas are liable. It will also hear from Mr Pringle.