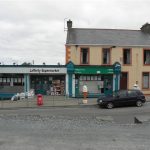 Laffertys Vivo Shop and Filling Station in Creeselough have been saved from closure in the High Court this afternoon.
Earlier this week Laffertys Supermarket, the Corncutters Rest and Laffertys pub were closed after an investor couldn't been found to keep them open.
And the owners had feared the worst for the shop and filling station today in the High Court.
Speaking to Highland Radio News from the High Court, an emotional Danny Lafferty said his family are still in business in Creeselough:
[podcast]http://www.highlandradio.com/wp-content/uploads/2013/06/danl530.mp3[/podcast]