Strabane District Council are going to have foot a bill of thousands of pounds after the Meadows playing pitches were vandalised.
Broken glass and litter was found scattered all over the pitches after the weekend. A deep clean will now have to take place which could cost thousands.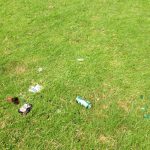 And it's not the first time this has happened, in April 2010 Broken bottles necks, which were turned upside down with the jagged bits standing upwards, were inserted all over the grounds, the playing pitches then had to be closed for a number of weeks.
Local Cllr Patsy Kelly says the Council are going to be left with no other option but to fence the area off:
[podcast]http://www.highlandradio.com/wp-content/uploads/2013/06/pkel530.mp3[/podcast]