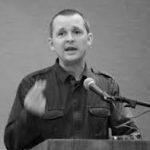 A branch of the People Before Profit Alliance is being established in Donegal.
Dun Laoghaire TD Richard Boyd Barrett will address a meeting at Jacksons Hotel in Ballybofey tonight.
Her says there are a number of people in the county interested in becoming involved, and tonight's meeting will be an attempt to harness what is a clear opposition to austerity in  Donegal.
He says there is an interest in the county in developing an alternative, and he hopes that can be progressed tonight...............
[podcast]http://www.highlandradio.com/wp-content/uploads/2013/06/rbb1pm.mp3[/podcast]